The SMART course is a research methodology course designed and organised by the University of Cambridge Division of Anaesthesia. The course provides an introduction to the research process, from setting up a project and gaining ethical approval, through gathering and analysing the data, to presenting the results and peer review.
Aimed primarily at post fellowship/membership anaesthesia to intensive care medicine trainees, the SMART course is also open to emergency and acute medicine trainees or more junior anaesthetic/ICM trainees.
It has long been recognised that a firm grounding in the principles of research is an essential part of anaesthetic training. The SMART course objectives map to the Royal College of Anaesthetists Higher "Academic & Research" Competencies for the CCT in anaesthesia, pain and intensive care medicine.
The course is presented by experienced researchers and has a strong interactive focus. Due to COVID-19 the course this year is being presented on-line via Zoom & through the HEE Bridge learning platform
To achieve your final attendance certificate and CPD points it is mandatory that you attend the 4 x 2 - 2 1/2 hour on-line workshops /lectures which will be held twice over the 4 week period the course will run, in order to give you the opportunity to book study leave and not impact any night shifts. Plus you will be expected to watch live at least 75% of the evening lectures to enable audience participation. These will also be recorded & your attendance will be monitored. The admin. team will be in touch with you to finalise which dates you will be attending - please view the draft programme for timings of the on-line sessions.
~~~~ CPD credits agreed: 18*

*this will be conditional on participants 'attending' at least 75% of the courses at the time of delivery. ~~~~~~

COURSE FEE: £100.00
For NHS East of England Trainees working in HEE funded training posts in East of England the course is FOC, subsidised by Health Education East of England
PLEASE BOOK 1ST NOVEMBER - 19TH NOVEMBER COURSE FOR MANDATORY LECTURES THAT TAKE PLACE ON 1ST NOVEMBER, 5TH NOVEMBER, 15TH NOVEMBER & 19TH NOVEMBER - NB YOU MUST BE ABE TO ATTEND ALL DATES
PLEASE BOOK 8TH NOVEMBER - 26TH NOVEMBER COURSE FOR MANDATORY LECTURES THAT TAKE PLACE ON 8TH NOVEMBER, 12TH NOVEMBER, 22ND NOVEMBER AND 26TH NOVEMBER - NB YOU MUST BE ABE TO ATTEND ALL DATES

Your course fee is refundable for up to 14 days following the date of your application. Thereafter course fees are non-refundable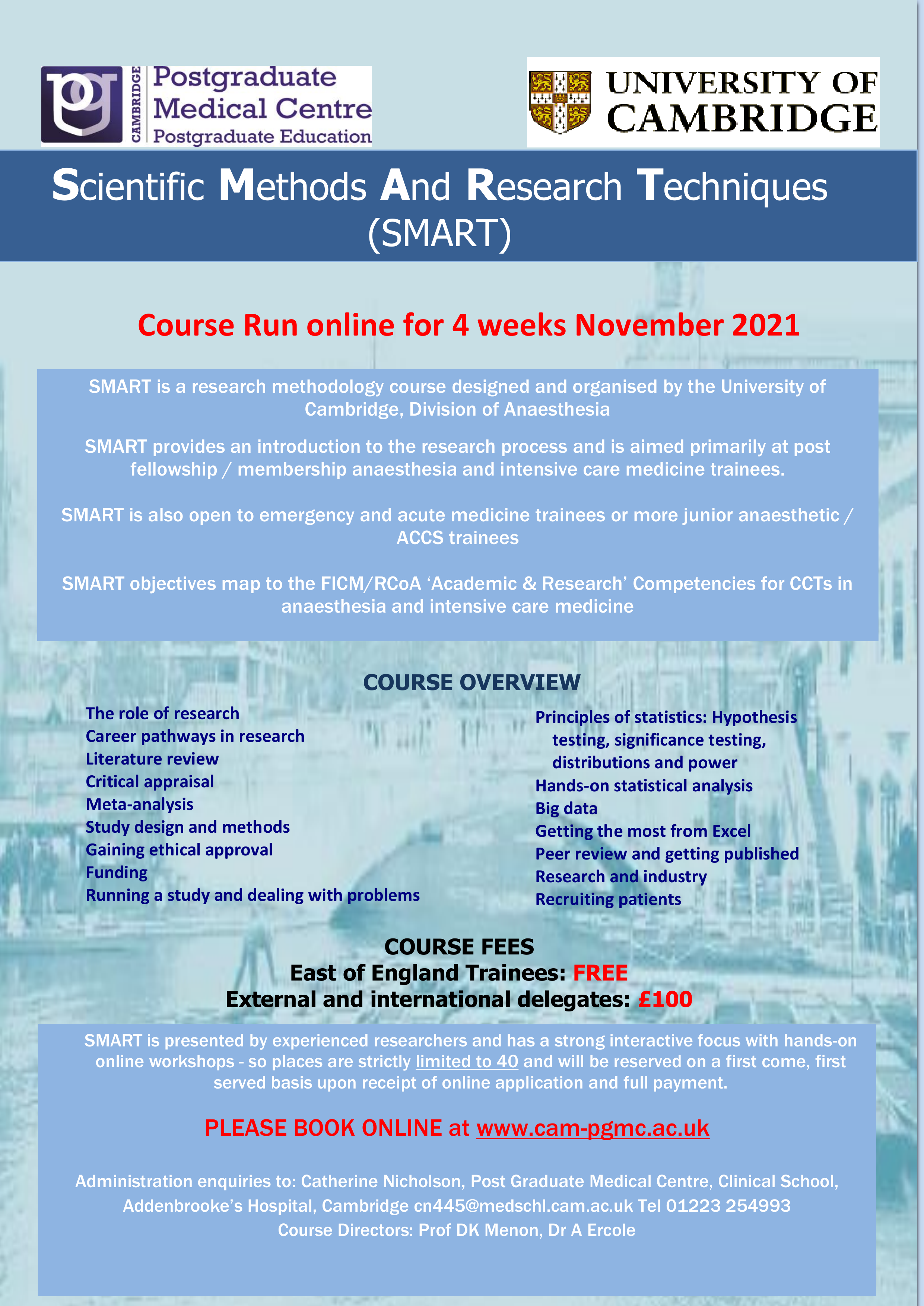 Programme